We love hosting events in our wonderful downtown. From concerts and movies, festivals and other fun happenings, there's always something to look forward to in Carrollton. Take a look at our lineup of signature and annual events below.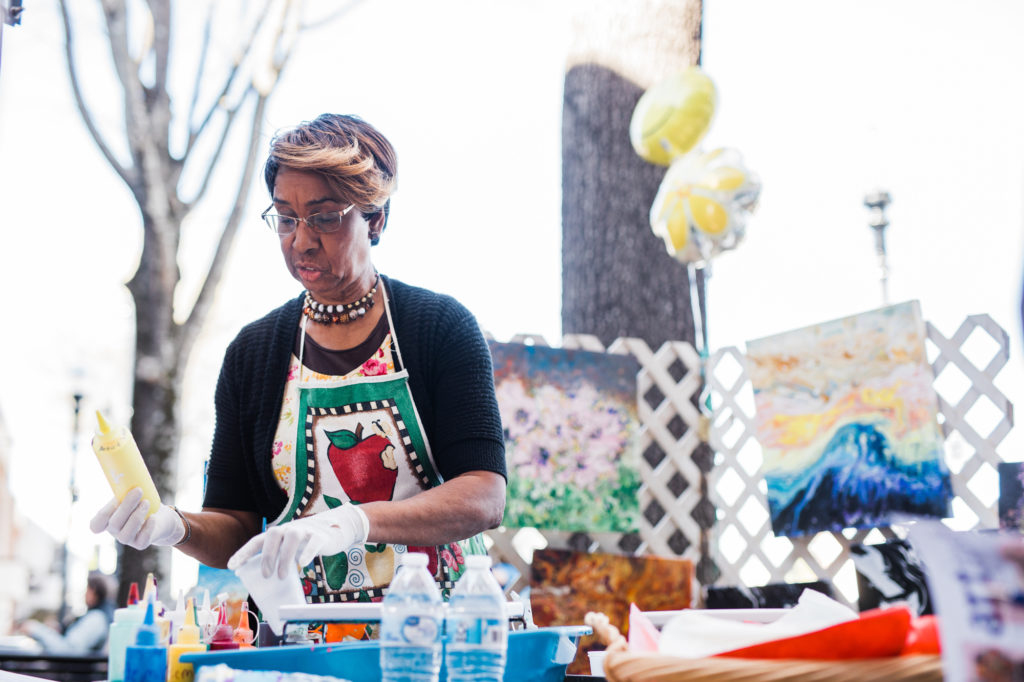 Art Takeover
June 15, August 17 / 5 – 8p
Art Takeover returns to Adamson Square!
Stroll through our altogether vibrant downtown, meet area artists and admire their work. Explore shops, restaurants and speciality beverages while you enjoy art demonstrations and live music!
June 15 Artists & Creators:
Adam Pecht, Anita Buice, Anna Greene, Arieana Moss, Ashley Denton, Becca Davis, Brenda Meeks, Craig Jones, Dana Helton, Ella Billiter, Erik Humphrey, Faye Byrd, Florence Gonzalez, Hailey Jackson, Hannah Griffin, Holli Driver, Jaclyn Smith, Julia McLeod, Kaitlyn Gaskin, Laura Smith, Luciana Vinci, Maggie DiRoma, Mary Aveni, Mary Daum, Melanie Drew, Melonie Hopkins, Morgen Bohannon, Patrice Gates, Piper Heaton, Raven Scott, Stephanie Norton, Tiffaine Smith, Tommy Smith
June 15 Specialty Beverages:
Bella Coffee – Dawn's Caramel Iced Coffee / Watermelon Wine Spritzer
Butter'dudder – Frosted Sorbet Lemonade
Carrollton Chophouse – Blackberry Spritzer
Heaven in Your Home – Strawberry Lemonade
La Trattoria – Coconut Dream
Local Ties – "Space Oddity" Hazy IPA
June 15 Musicians:
Evan Crowther
April 20 Artists & Creators:
Morgen Bohannon, Beverly Bruemmer, Anita Buice, Victoria Catron, Debra Cobia, Mary Daum, Ashley Denton, Maggie DiRoma, Melanie Drew, Candace Fincher, Kaitlyn Gaskin, Patrice Gates, Florence Gonzalez, Anna Greene, Hannah Griffin, Piper Heaton, Erik Humphrey, Jack Miller, Elizabeth Mobley, Arieana Moss, Stephanie Norton, Adam Pecht, Raven Scott, Tommy Smith, Tiffaine Smith, Tina Smith
April 20 Specialty Beverages:
Butter'dudder – Strawberry Lemonade Sorbet float
Chip's Burger Bar – Over The Rainbow boozy milkshake
City Tavern – Peach Penley
Leopoldo's Pizza – Peach Bellini
Local Ties Brewery – "Who You Love" Kolsch
LocoMex – Beach Bomb
Nama – The Frida Mezcahlo
Samba Loca – Basquiat Bellini
April 20 Musicians:
Chase Phillips – 5pm / Edie and Zoe – 6:30pm
April 20 at the Center for the Arts:
Local Connections: Carrollton Artist Guild Juried Exhibition Opening
Rockmart Art Swap Opening
March 30 – Join us at the Neva Lomason Library for public sculpture unveiling, UWG Student Show exhibit opening at the Center for the Arts and celebrate the Last Supper exhibit opening at the Depot on Bradley.
Public Sculpture Unveiling: Join us as we unveil a new sculpture by Gordon Chandler at the Neva Lomason Memorial Library at noon.
UWG Student Show: Open through April 6 The Carrollton Center for the Arts and the University of West Georgia art faculty present a juried show featuring works from more than twenty UWG student artists. The show's top artists, chosen by a special guest juror, will have the opportunity to display a small body of their work at the Arts Center in the upcoming exhibit season. Opening Reception: 5pm-7pm
Artists interested in participating, apply here.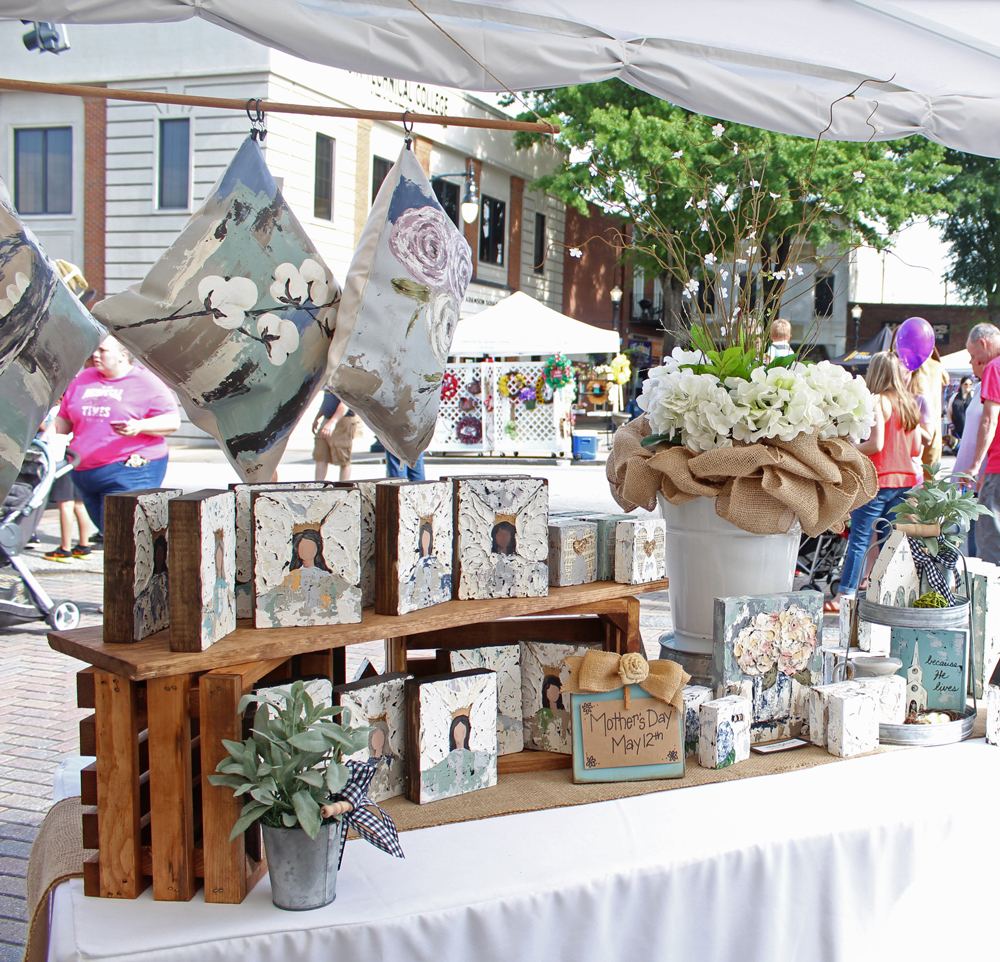 Mayfest Arts & Crafts Festival
May 6, 2023 / 9am – 3pm
Join us for an altogether crafty festival full of fun! Browse handmade arts and crafts by hundreds of vendors, located all around our vibrant downtown. Enjoy tasty local eats and explore our unique specialty shops. Stop by The Amp for family-friendly entertainment throughout the day. Mayfest is Carrollton's most popular festival – come find out why!
Mayfest Entertainment at the Amp
9:40am – 10:10am / Carrollton Center for the Arts Ballet
10:20am – 10:50am / Southern Dance Precision
11:00am – 11:30am / Carrollton Academy of Dance
11:40am – 12:10pm / Fever Performing Arts
12:20pm – 1:50pm / Teen Idol
2:00pm – 2:30pm / Carrollton Young Singers/Carrollton Youth Chorus
2:40pm – 3:10pm / Dance Affections
4t Craft House, A Bar W Enterprises, Acme Farms, AddiCakes Cupcakes, LLC, Advocates for Remarkable Citizens (ARC), Africraft, AGW Ice Cream, Amelia Bovingdon, Anna Greene Designs, Arts by Piper, Artsy Amanda, Ash+Clay, Atlas Rooz Creations, Auntie J's Designs, Bain's Woodworking & Handicrafts, BB's Bread, Bec's Creations, Bedelia's Bees, Blooms of Splendor, BLT Custom Crafts, Blue Boxer Wood Works, Brock Family Woodcraft LLC, Bullseye Bead Co., Cadance Janeen, Candles by Jazzy, Carroll County CASA, Carroll County Humane Society, Carroll County Mental Health Advocates, Carroll County Soup Kitchen, Inc., Carrollton Lions Club, Carrollton Soapery, Central CastMasters, Chick-fil-A, Chicken Salad Chick, Christmas Personalized Nursery, Come Again Confections, Confections of a Ballpark Mom, CountryFreshDesigns, Creative Calling Crafts, Creative Treasures, Danny & Wanda Pelfrey, Dugger Mountain Fudge & Coffee Co., Enchanted Lanterns, Erik Humphrey Pottery, Ferst Readers, Flossy Arts, Forte Couture, Free Mom Hugs, Frosted by Sutton's, Glass Creations, Goldie Flower Haus, Grove Arts Co/ Robin Valley Designs / Thistles and Thorns, Grow WILD Essentials, Harmony Products, hedgestagram, Henderson Wood Products, Hodge Mill, HootNBelle Soap & Bath Co, Hound Hogs BBQ Supply Co., Iacwood, Impact West GA, Irish Bred Pub, ivey & theo, Journey Fellowship Baptist Church, Katielou's Lilies, Kats Kreations, Kona Ice, L&H Crafts, Laser/Lathe and Glass, Laura W Smith Fine Art, Laurel Rose Co, Lief's Nursery, Little Pink House, Little Vine Vineyards, Lot 10 Paper, Mad Greek, Mal Nourished Mobile Bakery, Meek's Crafty Creations, MiSweetsAndThingz, Mom & Me Hand Stamped, Mr. Banh Mi, Ms. Pat's Creations, Nanny's Jellies Jams & More, PFG Woodworks, Pool Hill Honey, PSS, Red Terracotta Co., Repurposed by Mike, RM Mercantile Co, ROAM Collective, Rustic Touch Craftiques, Sherone's Sweet Treats LLC, Southeastern Quilt and Textile Museum, Southern Valley Candles, Sweetwater Woodworks, The Blue Poppy clay studio, The Bougie Couture Collection, The Charmer Bee Co, The Gathered Garden, The Mantel, The Peach Mitten, The Purple Door Studio, Trash Cat Printshop, True-Liif, UWG, Vick's Knives & Crafts, Waddell Leather, Water Oak Glass Art, West Georgia Regional Library System (WGRLS), West Georgia Technical College, West Georgia Unitarian Universalists, White Hummingbird Candle Co., Wildflower Designs, World Gifts, Yancey's Woodshop
2024 Mayfest applications will open in January.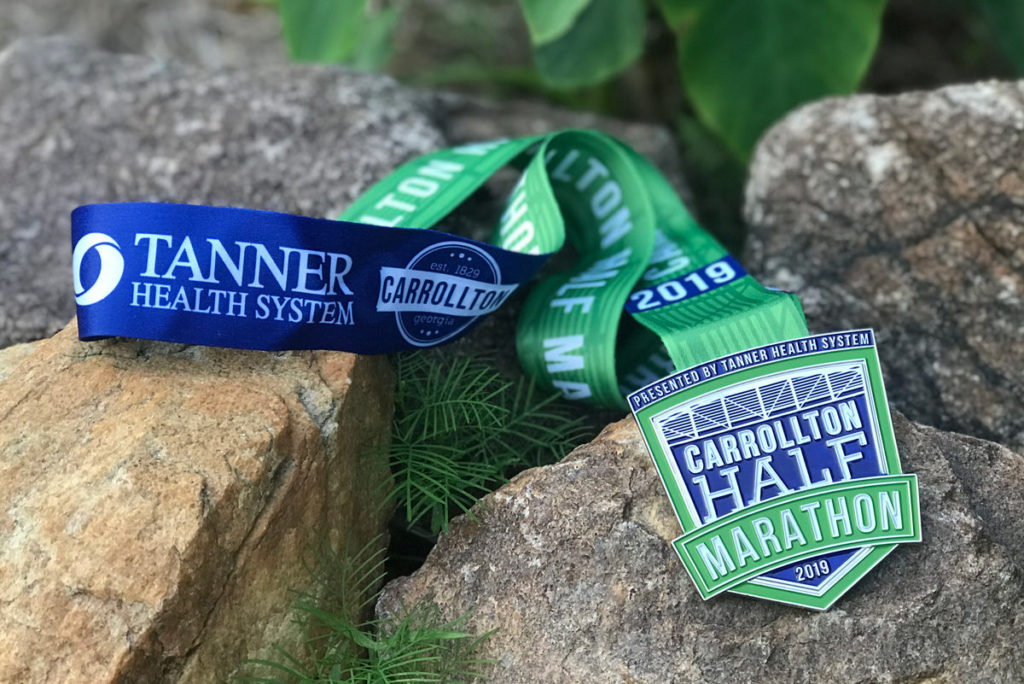 Carrollton Half Marathon
September 23, 2023
The Half Marathon's 13.1-mile course starts at Adamson Square, then takes runners through the city and along the shaded, rolling hills of the Carrollton GreenBelt. The route finishes back at Adamson Square. Find out more.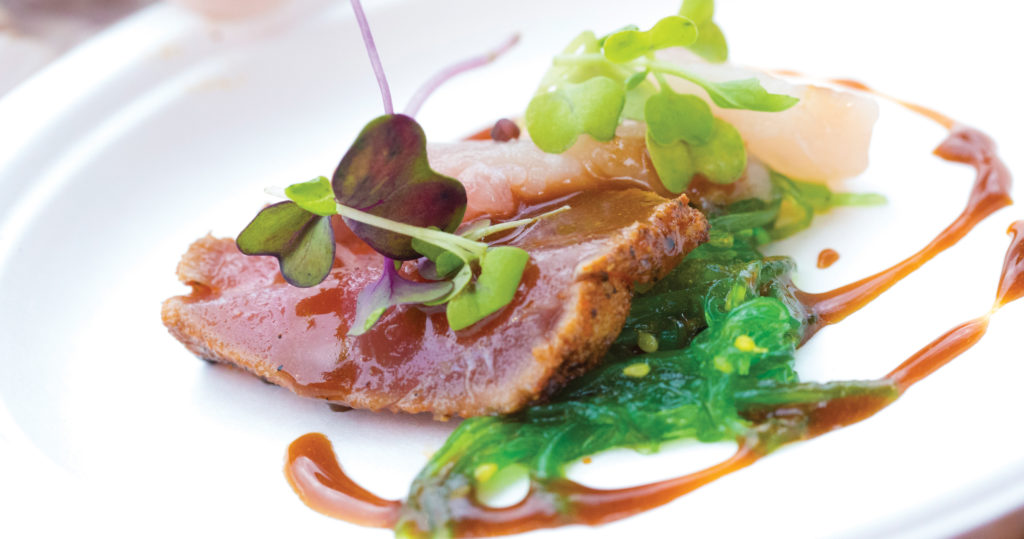 Taste of Carrollton
September 28, 2023 / 5:30pm-8:30pm
Come discover what makes Carrollton altogether delicious at Taste of Carrollton. Sample the unique culinary creations of our best restaurants, caterers and breweries, surrounded by the sights, sounds and shops downtown.
No more food tickets – Taste of Carrollton will be cash-only. All samples will be priced between $1-4. So forget waiting in line to buy tickets, bring cash and get right to the good stuff!
Craft Brew Package: For $30, you'll enjoy pours from our beer truck (featuring eight unique craft brews) and an event-exclusive cup. Must be 21+ to purchase.
2022 Participants:
Brown Dog Eatery
Butter'dudder
Chick-fil-A
Chip's Burger Bar
City Tavern
Corner Cafe
Courtyard by Marriott Carrollton
El Monterrey Mexican Grill & Bar
El Rey Del Sabor
FAM Kitchen & Bakery
Gallery Row Coffee
Good Neighbor Meals
Heaven in Your Home
Irish Bred Pub
Jefferson's
Kona Ice
Kristi's Southern Eats
Leopoldos Pizza Napoletana
Little Vine Vineyards & Winery
Locomex Downtown
Moe's Southwest Grill
Nama Asian Fusion
Peace In Cupcakes
Sam's House Barbeque
Samba Loca
Shane's Rib Shack
Shot Spot Bakery & Cafe
UWG Dining
Your Great Events Catering
$30 brew package includes souvenir cup and unlimited brew pours from the beer truck. Must be 21+ to purchase.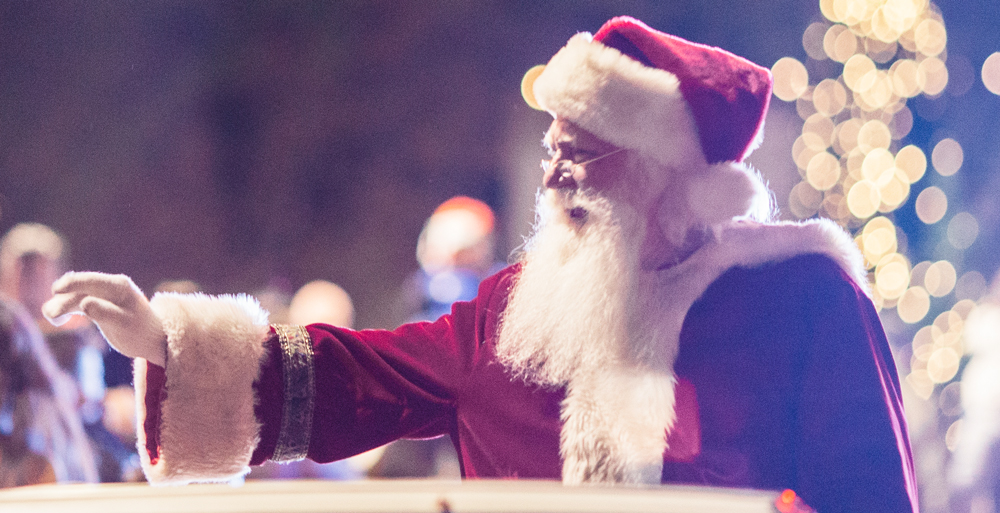 Christmas in Carrollton & Parade
December 2
'Tis the season to celebrate Christmas in Downtown Carrollton. Bring your family to Adamson Square for an altogether magical day filled with festivities and fun. Grab a cup of hot cocoa while carolers fill the air with sounds of the season. Drop your wish list to Santa in our very special mailbox. Shop the gift market and get your photo taken with Santa. Wrap up your day downtown with the Carrollton Christmas Parade and enjoy the lights and decorations that will add a sparkle to your evening.
Gift Market / TBD
Christmas Parade / 5:30pm
Parade Application & Route
Application
Parade applications are closed.
Route
Parade will begin on Bradley St. near Minden Ave. and process north through Adamson Square and conclude on Brown St. at Neva Lomason Library.