Garbage and Recycling Collection
The City of Carrollton picks up household garbage weekly. During city-observed holidays, pick-up will be delayed to the following day.
Please place garbage containers out by 7am on your scheduled day for collection. Please be sure you have the proper amount of bins to accommodate your weekly trash amount. If you are consistently generating more trash than your city-issued bin will hold you will need to add additional bins ($16 per month per bin) or you may be charged an extra fee per bag left on or outside/on top of your bin.
Find out what day your street gets picked up here.
Yard Debris Collection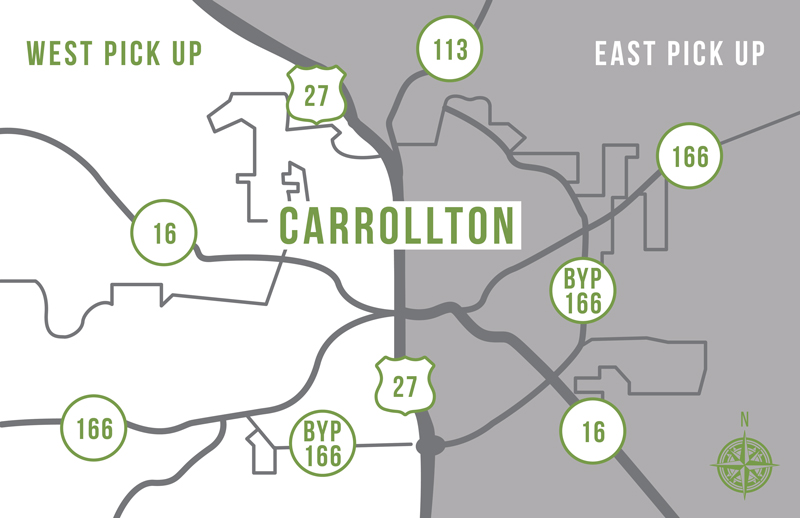 In accordance with state Environmental Protection Division standards, we have established a yard debris collection policy, designed to improve stream health and prevent damage to our stormwater system. Debris and yard trimmings are picked up on alternating weeks. Bagged debris, brown bins and other debris should be placed on your curb (away from stormwater drains) Monday morning for pick up during your scheduled week.
Help keep our stormwater drains clear and our sidewalks and streets safe by following the yard debris collection guidelines below.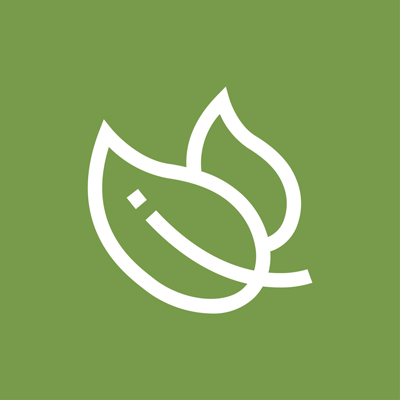 Leaves and Grass Clippings
Grass clippings and leaves must be placed in brown paper bags or a city-issued brown bin. Plastic bags are not permitted – they are not compatible with the machines at the county transfer station. Bagging (or binning) prevents stormwater drain clogs and reduces hazardous conditions on our sidewalks and streets.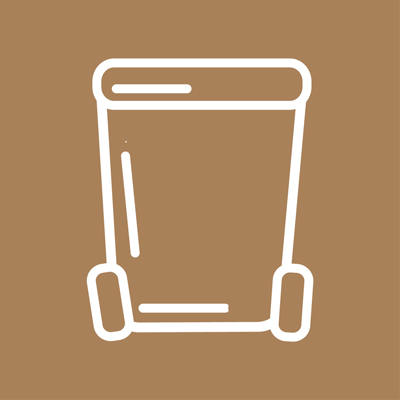 NEW! Brown Bins
We are pleased to offer a brown wheeled bin (similar to your garbage bin) to make collecting your debris easier. The cost of each bin is $60 and we will cover half. If you would like a brown bin, a one-time charge of $30 will be added to your utility bill. Only city-issued brown bins may be used due to truck compatibility requirements.
To order, email the account name and service address to utilitybilling@carrollton-ga.gov or call 770-830-2000.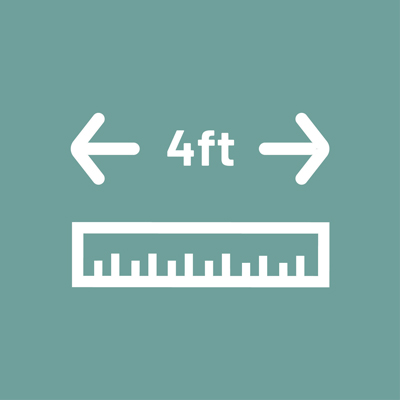 Brush, Limbs and Logs
Sticks, limbs and logs should be cut into four-foot or smaller lengths and placed into piles for pick up. They do not need to be bagged or binned.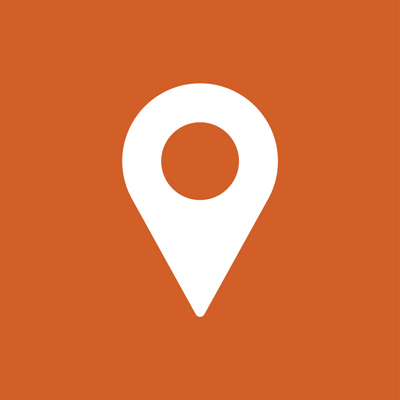 Placement
Place bagged debris, bins or limbs at the edge of your property near the curb, but away from stormwater drains. Debris is picked up every other week. Download the 2022 schedule.
Additional fees will be charged for debris piles that exceed two cubic yards. See the sidebar for information about disposing of other items.
---
Garbage and Recycling Street Schedule
MONDAY SERVICE
Abby Lane
Adamson Square
Almon Road
Alton Estes Drive
Ambulance Drive
Amhurst Way
Apache Pass
Ashgate Way
Autumn Glen Drive
Avalon Drive
Bankhead Hwy
Banks Drive
Barker Alley
Beall Street
Beulah Church Road
Billingsley Circle
Birdsong Way
Bowen Street
Bradley Street
Brandywine Trail
Brookwood Drive
Brown Street
Calhoun Drive
Candlewood Drive
Candy Circle
Carter Street
Cedar Street (100‐700 Block)
Chalfont Circle
Cherokee Street
Cherry Drive
Cherry Street
City Hall Ave
Club Drive
College Street
Cunningham Drive
Davis Plaza
East Center Street
East Chandler Street
East Club Drive
East Reese Street
East Ward Street
Elm Street
Fairview Street
Fairway Drive
Farmington Trail
Fawn Circle
Fifth Street
Fisher Street
Flowery Branch Place
Folds Drive
Forrest Drive
Foxfire Drive
Frances Place
Frankford Way
Golfview Court
Greenpoint Way
Greystone Drive
Griffin Drive
Groover Drive
Grove Park Drive
Habersham Place
Henry Street
Hickory Chase
Hickory Walk
High Street
Highland Avenue
Hillcrest Road
History Drive
Jones Street
Joshua Mabry Street
Katherine Court
Kay Lane
Kerry Court
Kilgore Road
Kings Bridge Drive
Kings Bridge Road
Knollwood Drive
Kramer Street
Kyle Way
Lake Carroll Blvd
Lake Crossing
Lake Lane
Lake Skiff Court
Lake Terrace Court
Lakepoint Drive
Lakeshore Park Drive
Lakeview Drive
Lakewood Drive
Lambert Street
Lee Street
Lisa Lane
Lucille Ave Place
Luckie Street
Lumpkin Drive
Lynda Circle
Magnolia Street
Maple Street
Martin Drive
Martin Luther King Drive
Merion Court
Minden Place
Molette Street
North Stoney Brook Drive
North Alma Street
North Avenue
North Cliff Street
North Lake Drive
North Park Street
Northside Drive
Old Bremen Road
Old City Hall Avenue
Ole Hickory Trail
Orchard Street
Oxford Square
Park Place Way
Patterson Street
Peachtree Street
Pearl Street
Pennsylvania Avenue
Perry Street
Pinecrest Place
Pineknoll Drive
Plowshare Road
Presbyterian Avenue
Professional Place
Providence Court
Providence Drive
Quail Run
Ranier Court
Remmington Way
Rhudy Street
River Drive
Robert Hendrix Drive
Robinson Avenue
Rome Street
South White Street
Somerset Place
South Blvd (100 Block Only)
South Cliff Street
South Lakeshore Drive
South Street (M&T)
Spring Street
Springwood Drive
Stewart Street
Stonewall Drive
Stoney Point Cove
Stoney Way
Sunset Blvd
Sunset Court
Tanner Street
Temple Rd ‐ Hwy 113 N
Terrapin Court
Terry Terrace
Thurman Street
Tuggle Street
Turtle Cove
Turtle Pointe Drive
Turtle Walk
Valley Circle
Valley Green Drive
Ward Street
Wellington Court
West Center Street
West Chandler Street
West Club Drive
West Ga Drive
West Lakeshore Drive
West Reese Street
Westview Way
Wooded Glen Lane
Woodland Court
Wrenwood Lane
Yosemite Court
TUESDAY SERVICE
Adams Street
Adamson Avenue
Adamson Drive
Akin Street
Alabama Circle
Alabama Street
Alice Lane
Amy Lane
Austin Avenue
Austin Circle
Avenue A
Avenue B
Avenue C
Aycock Street
Azalea Place
Bankhead Hwy (200 Block)
Bass Street
Beavers Street
Beckett Court
Belva Street
Ben Scott Blvd
Bennett Circle
Birkdale Blvd
Blandenburg Road
Bledsoe Street
Bluebird Lane
Bonner Road
Borders Street
Briarwood Drive
Broad Street
Brock Street
Brookstone Drive
Brumbelow Road
Burns Road
Burson Avenue
Camilla Drive
Canterbury Drive
Carroll Circle
Carroll Street
Carson Place
Carter Avenue
Cedar Street (800‐1200 Block)
Centennial Road
Central School Road
Champion Drive
Chaucer Lane
Chestnut Lane
Clarion Drive
Clark Street
Clifton Terrace
Clinic Avenue
Coldwater Trace
Columbia Drive
Columbia Way
Cottage Hill Road
Creek Side Drive
Creekstone Way
Crestline Way
Deer Park Drive
Dixie Street
Doctors Drive
Dunes Court
Dunwoody Road
East Allison Circle
Eastern Avenue
Elder Circle
Elizabeth Village Drive
Emily Court
Executive Drive
Ferndale Road
Fertilla Street
Fieldstone Circle
First Street
Foster Street
Foxgate Path
Garrett Street
Glen Allen Lane
Glen Way Mill
Greenway Blvd
Hammond Street
Hampton Way
Harmon Avenue
Hay Street
Haygood Place
Hays Mill Road
Henry Burson Drive
Hidden Lakes Drive
Highland Avenue
Hill Drive
Hilo Court
Horsely Mill Road
Jackson Street
Jewell Street
Kensington Court
Kilarney Court
Kristy Lane
Lake Street
Lane Drive
Lava Court
Lei Court
Leigh Lane
Longbon Street
Longview Street
Lovvorn Road
Lyle Way Plantation Walk
Mallard Lane
Mandeville Avenue
Manor Way
Maple Street (Forrest Dr To City Limits)
Mara Street
Marsh Drive
Matthews Avenue
Meadow Lake Drive
Meadow Run
Meadow Side Court
Medinah Drive
Melody Drive
Melrose Park
Merrell Street
Millpond Crossing
Misty Hollow Drive
Mitchell Circle
Morningside Drive
Mountain Ash Lane
Muirfield Way South
National Way
Newnan Road
North Allison Circle
North Aycock Street
North Garrett Street
North Nixon Street
Oak Avenue
Oak Mountain Parkway
Oak Mountain Road
Oak Mountain Trail
Oakmont Court
Old Mill Court
Old Mill Drive
Old Newnan Road
Orion Terrace
Park Lane
Pierce Street
Pike Street
Pine Street
Pinehurst Way
Point‐O‐Woods Place
Refuge Way
Rejen Drive
Reserve Drive
Retreat Way
Richards Street
Ridgecrest Avenue
Ridley Drive
River Birch Lane
Roop Street
Scenic View Lane
Second Street
Sentinel Walk
Shady Lane
Shady Valley Court
Shady Valley Drive
Shannon Drive
Sinclair Street
South Allison Circle
South Alma Street
South Aycock Street
South Blvd (All blocks except 100)
South Coleman Street
South Cottage Hill Road
South Fourth Street
South Hill Street
South Nixon Street
South Park Street
South Side Avenue
South Street (M&T)
South White Street
Southwire Drive
Stonecrest
Stream Court
Strickland Road
Stripling Chapel Road
Sue Alice Lane
Summer Chase
Sunrise Strip
Sussex Court
Sycamore Drive
Tabernacle Drive
Tanglewood Trail
Teton Avenue
Thornbrook Court
Tillman Drive
Tom Reeve Drive
Trojan Drive
Turnberry Circle
Turning Leaf Court
Victoria Vining Drive
Victoria Way
Vineyard Walk
Vining Court
Watson Street
Wedgewood Drive
West Allison Circle
West Avenue
West Dunwoody Drive
West Georgia Indian Avenue
Wind Song Court
Windmill Way
Yellowstone Drive